How to Structure
a Goaltending Development Program : Part 1
In 2018-19 NHL season, I, Hiroki Wakabayashitook the position of DYHA Jr. Sun Devils Goaltending Director. Goaltending Director in a youth club should mean something more than a traditional "goalie coach" or casually called "goalie guy" who is called in for the practices and given random ice time to work with goalies in the team/club.
As the Goaltending Director, I am in charge of creating and running the developing program for 21 goalies in 11 teams in the organization. In the very first meeting with our Hockey Program Director, we discussed about how to create and secure consistent, adequate ice time for goalies and structure efficient goaltending development program instead of goalie guy doing random or routine "warming up goalies" kind of drills in the first 5 minutes of the practice.
Flip-Flop Skills Session Format
Hiring skills coaches and conducting weekly skills session is getting popular in youth hockey organizations recently. Many organizations utilize goalie coaches in the skills session so they could run the goalie session or goalie station as the part of the skills session. However I've often seen conflicts in between head skills coach's practice plan and goalie coach's work because the skills coaches sometimes want to use the goalies in 3-4 stations or they simply want the whole ice for the drills. I've come to the conclusion that traditional skill session format is not only inefficient for developing goalies but also not flexible for skills coaches to run variety of drills.
Therefore, we restructured our Monday Skills Sessions for 8U to 16U teams in order to give all the goalie to receive exclusive goalie instructions almost every week for 45 mins as below.
5:10-5:55pm, Skills Session 1 : Team A&B (Team C&D goalies with the goalie coach)
6:05-6:50pm, Skills Session 2 :

Team C&D

(Team A&B goalies with the goalie coach)
7:00-7:45pm, Skills Session 3 :

Team E&F

(Team G&H goalies with the goalie coach)
7:55-8:40pm, Skills Session 4 :

Team G&H

(Team E&F goalies with the goalie coach)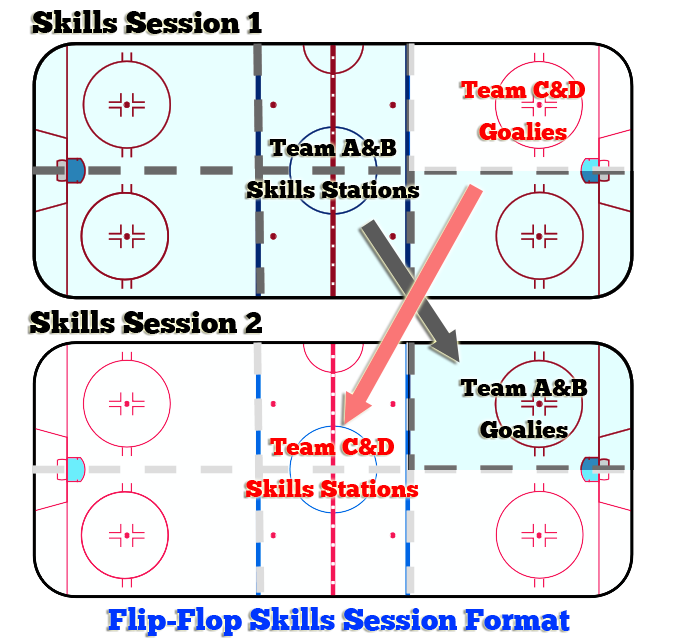 Every skills session has two teams on the ice for 45 mins and usually takes 2/3 to 5/6 ice sheet to run 3-5 skills station drills.
Team C&D goalies come to Skills Session 1 ice time to work with the goalie coach while Team A&B goalies are taking shots in skills stations.
Then Team A&B goalies stay for Skills Session 2 ice time to work with the goalie coach while Team C&D goalies are taking shots in skills stations.
Skills Session 3 and 4 will run as same as above flip-flop format. This format allows a group of goalies (usually three to four goalies) to work with the goalie coach for full 45 mins and the skills coaches can use another group of goalies in stations as much as they want. Yes, goalies enjoy 90 mins of ice on Mondays.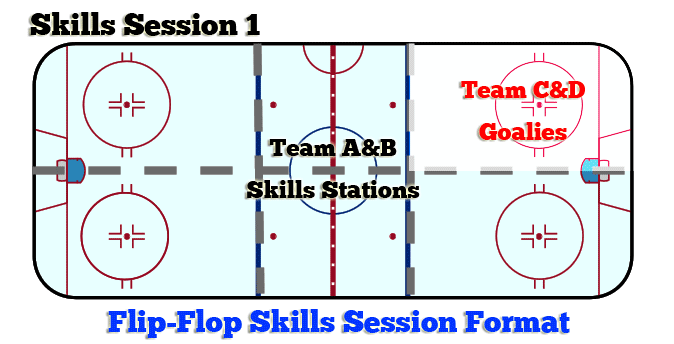 Four shooters per goalie session are assigned by the Hockey Program Director communicating through the team managers. They are most likely coming from the same teams as the goalies, Team A&B shooters for Team A&B goalie session, etc. Only exception is 8U because they are too young to become shooters so one of the assistant coaches shoots for 8U goalies.
Weekly Practice Visits
Beside Monday Skills sessions, the goalie coach also visits one practice per week per team when they have shared ice practice. Both teams prepare to provide the goalie coach a part of the neutral zone ice to work with the goalies at a time in the first 30 mins. The goalie coach usually takes two goalies at a time and rotate after 15 mins.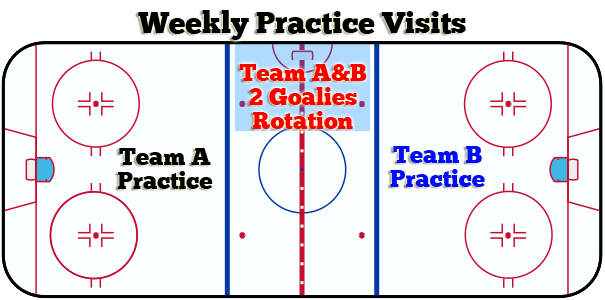 Combining Monday Skills Sessions and Weekly Practice Visits provide solid 60 mins of goalie specific instruction to each goalie almost every week for all the team except for 18U team. 18U team has no shared ice practice so the goalie coach just visits their practice weekly to work with the goalies.
The goalie instruction ice time is structured. Now let's structure the contents of instructions!
for more information and instruction, contact
Hiroki Wakabayashi