2017-18 NHL Goals Study from 3,854 Tracked Goals
(About a Half of Total Regular Season Goals)
In 2017-18 NHL season, Hiroki manually reviewed and tracked 3,854 goals, about a half of total regular season goals, in order to combine the stats he wants to analyze and study.
The main purpose of this project is to track and analyse how and from where the goals were generated from three step before the shot as below.
Pre-Shot 3 (X3, Y3) [pass, carry, Face Off Win, etc]
Pre-Shot 2 (X2, Y2) [pass, carry, ForeCheck to loose puck, Shot and Rebound, etc]
Pre-Shot 1 (X1, Y1) [pass, carry, ForeCheck to loose puck, Face Off Win, etc]
Shot (X, Y) [wrist shot, one touch shot, tip, deke to forehand, etc]
Net Location (Net X, Net Y), Goalie's Hole (glove high, 5-hole, etc) and Screen Shot situations were also recorded.
Of course, all the data were tagged to the game dates, teams, skaters and goalies so you can filter all the goals by teams, individuals and situations.
During the course of collecting the data, Hiroki was suffered from tennis elbow by clicking the mouse too much. He also had to replace a mouse with worn out scroll wheel and broken left button.
Here Hiroki presents some very interesting studies he combined from the big stats. Hope they help hockey players and coaches to see the game from different point of views.
Feel free to send comments, questions and corrections of the data (there are more than few, I guess).
Hiroki Wakabayashi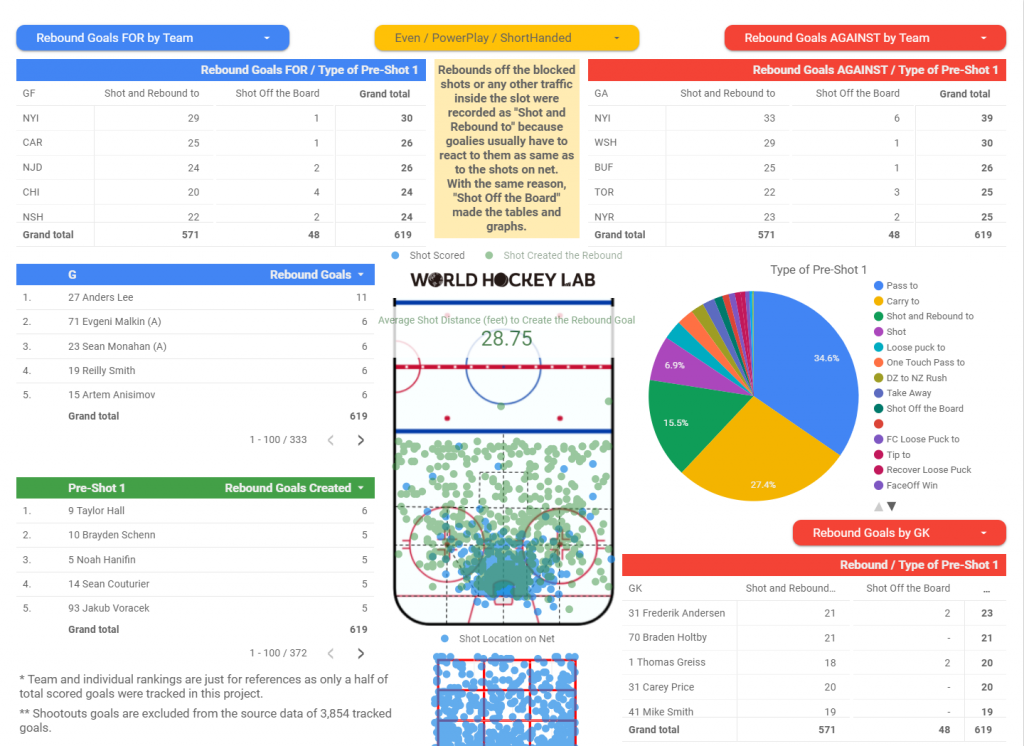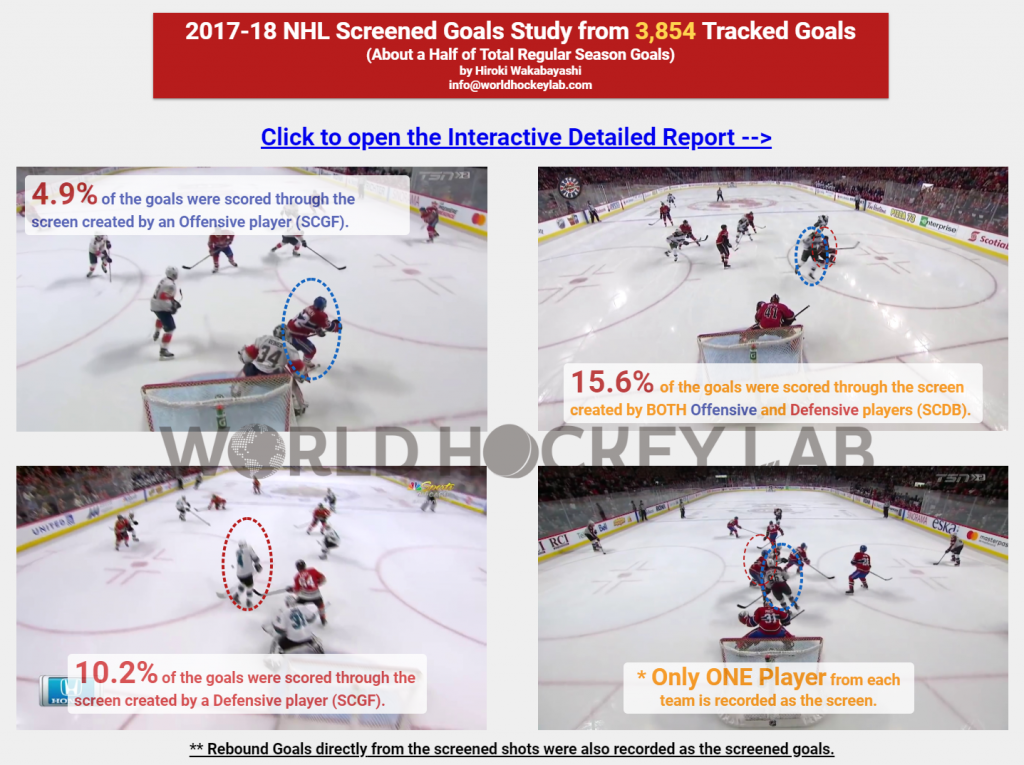 Screened Goals Study
The 1st report of my Stats Project from 3,854 (about a half of the regular season) NHL goals 2017-18. Your own players screen and suffer your own goalies more than the opponents do! Detailed reports are here!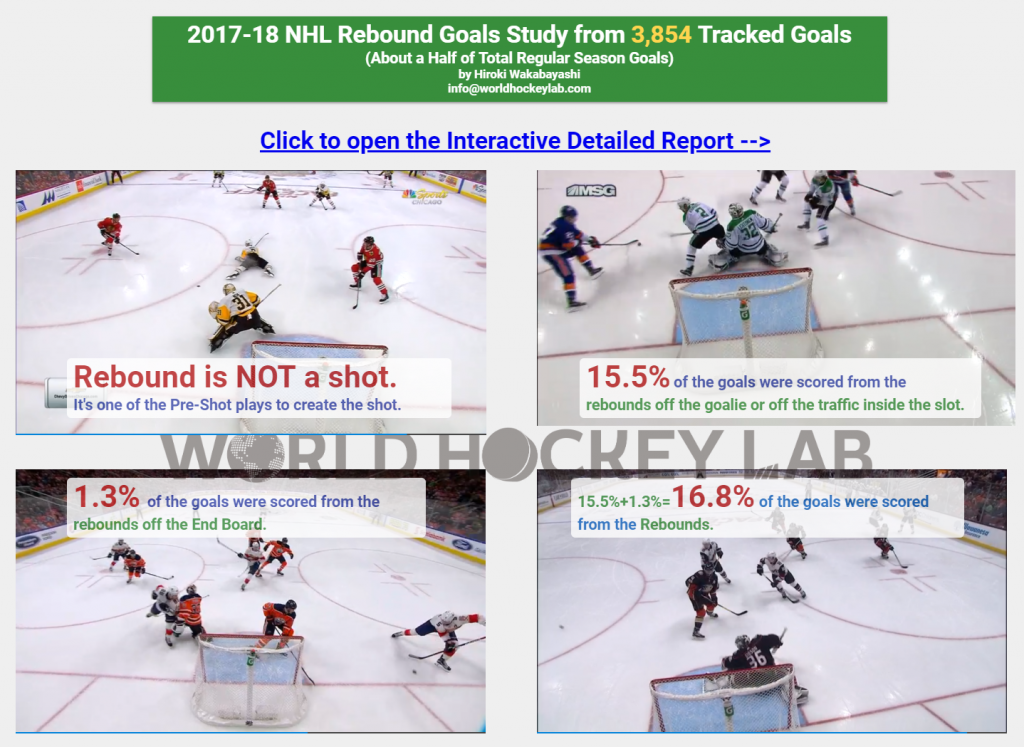 Rebound Goals Study
2017-18 NHL Rebound Goals Study is out! Shoot for the rebound has been the most common Hockey 101 for years. The reality is,,, only 16.8% of the goals were scored off the rebounds. Detailed reports are here!
Scoring Holes Study
​Scoring Hole is defined by the last point where the puck passed the goalie's body. Glove High tops with 15.7% followed by 5-Hole with 14.0%. Detailed reports are here!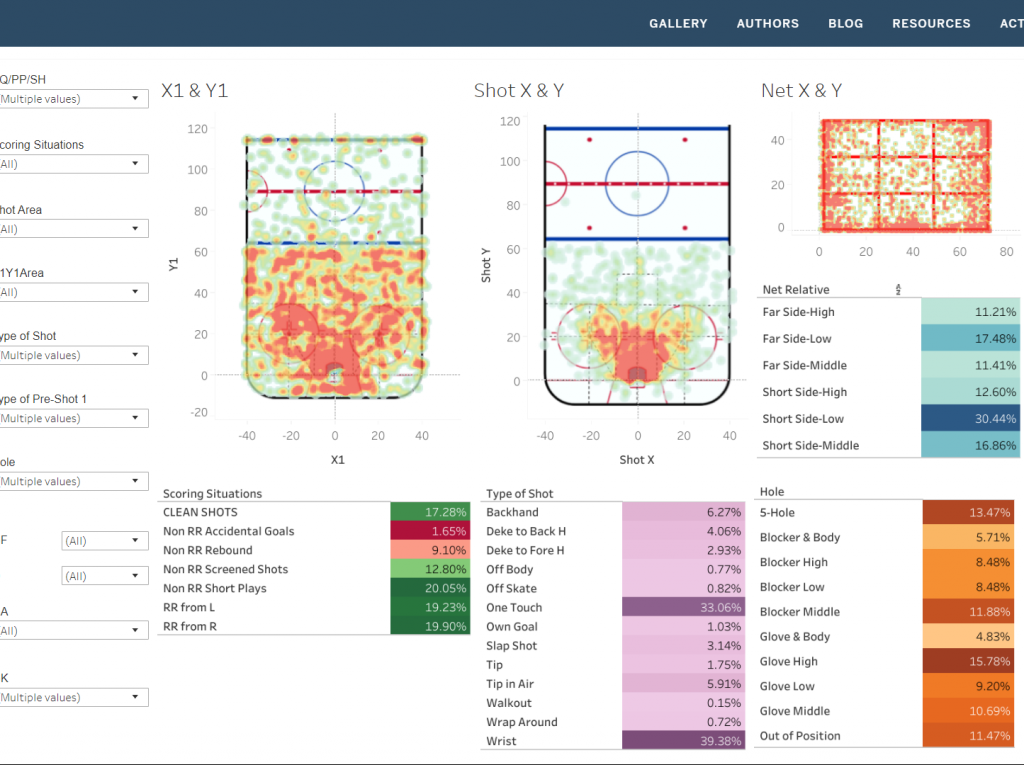 X1Y1 and Shot XY
Pre-shot X1/Y1, Shot X/Y and Net X/Y locations with situational and individual stater/goalie filters. Enjoy playing around! Detailed reports are here!
ADM Presentation
The online presentation made for the USA Hockey ADM managers and CEP managers on May 20, 2020.